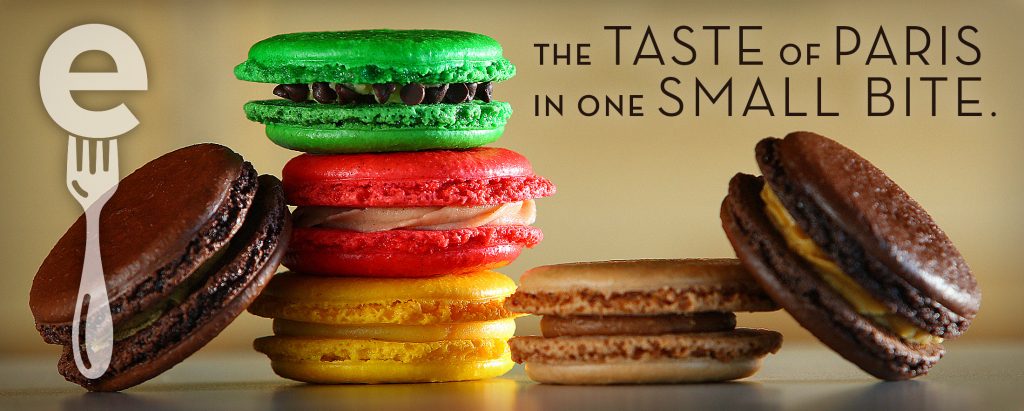 Make life a little sweeter with Macarons by Essence Bakery. Enjoy the taste of Paris is one small bite.
Essence Macarons are made fresh daily, with the finest quality ingredients and come in a wide variety of flavors. Our Macarons are legendary, award-winning, and even gluten-free. The perfect harmony of delicate crispness joined by a smooth, creamy center. You've never had a macaron until you've experienced Essence.
PICK UP ORDER:
If you live in the Phoenix metropolitan area, special orders are available and can be picked up at Essence Bakery - Arcadia (3830 E. Indian School Rd., Phoenix, AZ 85018). Please call to place your order:
Essence Bakery - Arcadia: 602-296-4958
SHIPPING:
Due to the summer heat in Arizona, we only ship October 1 thru April 30. You can always pick up your order (see above).

SHIPPING SIZE:
Only package size available for shipping is 48 small macarons.
SHIPPING DATE:
Orders are shipped on Thursday (except holidays) to accommodate our production pattern. Orders received before Tuesday at 12 Midnight will be shipped Thursday of the same week. Our Macarons are shipped fresh and will arrive in a timely manner.
SHIPPING INFO:
We ship throughout the continental United States exclusively with US Postal Express. Because we SHIP EXPRESS ON THURSDAYS, your parcel is expected for ARRIVAL ON FRIDAYS OR SATURDAYS. Shipping to major cities takes usually one day. Shipping to rural areas typically takes 2 days.
SHIPPING CONTAINER:
A shipment of 48 small macarons arrives in a 15" x 10" x 9" card box. The parcel will contain 2 boxes of 24 macarons each protected by 1.5" thick insulant and kept cool by a 1 lb Polar pack. The total weight of the shipment is registered as 5 lbs by USPS, which rounds it up.
ORDER PRICE:
The Cost of 48 small macarons with the its special protective packaging and polar pack is $108.00 plus shipping (see below) and 8.6% sales tax.
SHIPPING PRICE:
The shipping cost is determined by which Postal Zone you're shipping too. Below are the shipping costs for each Postal Zone. CLICK HERE to find your Postal Zone.
ZONE 1 $25.00
ZONE 2 $25.00
ZONE 3 $34.00
ZONE 4 $44.00
ZONE 5 $52.00
ZONE 6 $58.00
ZONE 7 $60.00
ZONE 8 $62.00
PLACE YOUR SHIPPING ORDER:
For shipping orders, please fill out the form and we will call you to get your credit card information. Orders received before Tuesday at 12 Midnight will be shipped Thursday of the same week. Reminder, there are unfortunately no exceptions to shipping 48 small macarons and shipping them on Thursday. We recognize the inconvenience for certain cases, but have developed a costing model that works with that quantity. Our apologies if that does not meet your needs.
MACARON CARE:
Macarons should be refrigerated if they are to be consumed within two days. Otherwise, you can keep them in the freezer for up to two weeks.If they have been frozen, they should be allowed to sit at room temperature for a minimum of 45 minutes. If they have been stored in the refrigerator, they should be allowed to sit at room temperature for 15 minutes.
Thank you for your business.
Essence Bakery - Arcadia
3830 E Indian School Rd
Phoenix, AZ 85018
602-296-4958

Hours of Operation:
Monday - Sunday, 6:30 am - 3:00 pm MST
Macacron Pickup Available

Order Updates:
602-615-2689
customerservice@essencemacaron.com